With over 80 miles of pristine beaches—all open and free to the public—Nantucket's maritime allure is all-encompassing.  There's a beach to suit every taste—from the calmer waters of Children's and Jetties (perfect for children and families--with food, restrooms and equipment rental) to the rougher waters of Cisco (a magnet for surfers), Miacomet, Madaket (featuring spectacular sunsets) and Great Point, a fantastic scene of wildlife that invites visitors to bring their automobiles over sand to enjoy a day of fishing and adventure. But please remember to "leave only footprints."  The vast stretch of stunning natural beaches forming our island's  ever-changing coastline are a unique and precious resource worthy of our protection.
Once a thriving Art Colony, Nantucket remains a dynamic enclave for artists—both resident and visiting—who express their creativity in a diversity of media.  From oil painting and sculpture to textiles and woodcarving, the arts continue to flourish, showcased in galleries and exhibits throughout the year. The island's ethereal light—particularly in autumn—compels painters and photographers alike to capture its elusive essence.  Nantucket's abundant physical and spiritual beauty inspires artists—both novice and professional—to create unique pieces paying  homage to the enchanting "Land Far Out to Sea."
What better way to experience Nantucket than by bike?  At 14 miles long by 3 ½ miles wide—with predominantly smooth terrain (no hills!) and spectacular vistas, biking on the "Grey Lady" is a veritable delight. Twelve designated trails—over 32 miles of paths—traverse the island, with many suitable for the novice biker and families.  Our bike shops will provide everything you need for your adventure—from a map and helmet to a suitable, properly-maintained bike built exclusively for the island landscape.  Most rental shops also provide free roadside service. Sustainable transportation, coupled with a great workout. "Get on your bike and ride!"
Nantucket is truly a birder's paradise, due to its unique location 30 miles at sea and wide open landscape. Virtually all conservation areas—and island beaches—are open to the public, making the island an accessible venue for outdoor devotees of all sorts. Many birds are rare species, not readily found elsewhere in the US. From gulls, terns and sandpipers to rarely-seen Gray-tailed Tattlers, Nantucket is a sanctuary for local and visiting avian enthusiasts.  A Fall Birding Classic attracts many birders far and wide, and several island organizations offer bird and nature walks.  As the late Vern Laux—world-renowned island ornithologist—was known to say: "Keep your eyes to the sky!
Hiking
An impressive 46% of Nantucket is held in conservation trust, giving the island  its pristine, "wild" appearance. Thousands of acres of walking and hiking trails abound, and guided (or self-guided) walks throughout Town—with its unique architecture and rich history—are equally rewarding. The unique and visually dramatic island landscape features hardwood forests, cranberry bogs,  vernal pools—and more—showcasing an amazing diversity of flora and fauna.  Popular outlying hiking areas include Sanford Farm off Madaket Road, Squam Farm, and the Middle Moors, with each property containing marked trails with interpretive markers. It's a wonderful way to discover the island's rich natural beauty
Nantucket has a  rich maritime history, and opportunities to explore the scenic waterfront abound. From a bevy of boating and sailing charters and excursions to cocktail and ice cream cruises, hours of al fresco  family fun await on the waters of Nantucket Sound.  If you own your own boat (or are in the market to purchase one), you'll discover a number of options for sales, service and storage.  Nantucket Boat Basin, a full-service marina, is the premier destination for New England-area sailors and yacht captains.  With 240 slips, the marina accommodates a variety of vessels and is conveniently located—mere steps from the bustle of Nantucket Town
Nantucket is "nirvana"  for anglers—thanks to its unique location thirty miles at sea and pristine waters teeming with a variety of game fish. Whether you choose a pier, jetty, beach or boat as your platform, you are virtually assured to reel one in! For professional fishermen, prime fishing season begins in early May and runs through early November.  For the less experienced, any time is fine to try your luck.  If you'd rather leave it to the professionals, embark on a fun-filled maritime adventure with a local fishing charter; captain and crew will whisk you to prime "spots", and even clean and fillet your catch in preparation for dinner! From blues and bass to marlin, mahi-mahi and tuna, the waters of Nantucket are a veritable treasure trove awaiting your discovery.  For more information visit the MA Division of Marine Fisheries site
Whether you're a summer visitor or a year-round Nantucket kid, a host of activities—both indoors and out—are sure to satisfy virtually every whim and interest . Our venerable library boasts  a terrific children's section and plenty of programs to appeal to the younger set.  For the budding scientist, hands-on learning programs educate and inspire, and there's even a seasonal aquarium to visit and explore. For a fun family activity, try your hand at disc golf, a trendy new sport with an easy learning curve. Various camps devoted to arts, water activities, and sports abound, and a handful of theater troupes encourage future thespians. Nantucket also boasts  a state-of-the art ice skating rink.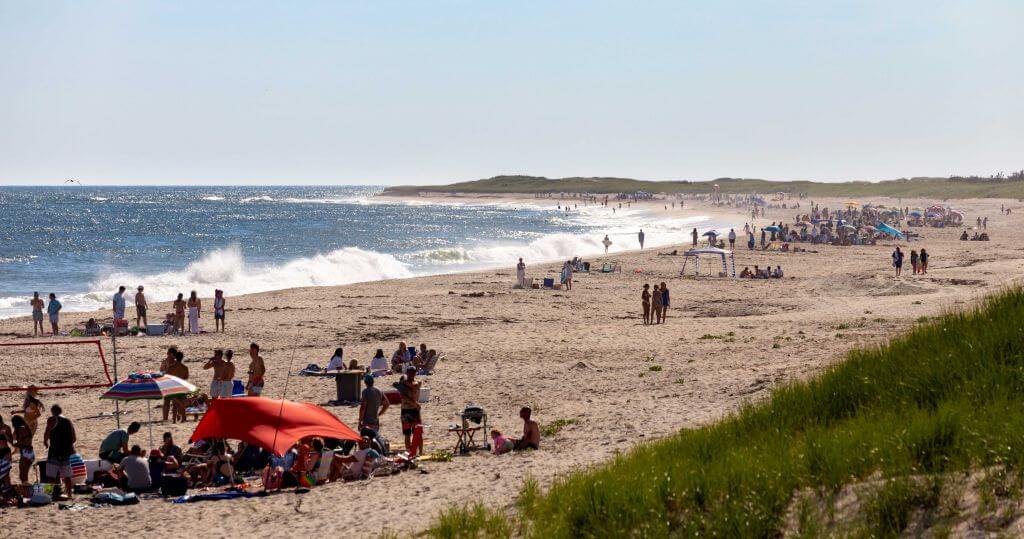 For connoisseurs of the unique, the island's  many eclectic shops are a delight for all ages.  From emporiums featuring  the finest in antiques and gift items to shops purveying cosmetics, clothing and accessories, shopping aficionados will revel in the bevy of charming boutiques showcasing designer clothing, home goods, gourmet foods, wine, jewelry, and so much more. A host of talented artisans ensure the legacy of Nantucket's rich history by continuing to create exquisite scrimshaw pieces and intricately woven lightship baskets.  Many venues are conveniently located in the heart of Town, perfectly suited for casual strolling….and serious shopping!  For a complete list of merchants please visit our member directory
With its spectacular scenic vistas, temperate climate, and the rolling Atlantic Ocean as a stunning backdrop, Nantucket is a haven for golfers. Miacomet Golf Course—the island's only 18-hole public course—is located a mere mile from the ocean, offering multiple tees suitable for both veterans and "newbies."  Stroll the magnificent greens of the charming 9-hole Siasconset Golf Course—dating to 1894—with its panoramic views, for a unique experience on the links. The island also boasts two private courses—Nantucket Golf Course and Sankaty Head Golf Club, both consistently ranked among the top courses in America.
From its near-hundred year reign as Whaling Capital of the World to its current incarnation as a premiere summer resort, Nantucket's living history is meticulously preserved in its diverse historic sites.  From the Oldest House—dating to the 1600's—to the stately whaling captain's mansions lining Orange Street--with their traditional and oft-times whimsical quarter boards--you'll be transported back in time the moment you set foot on the Faraway Island. The Old Gaol and Old Mill, African and Quaker Meeting Houses, and sundry museums dedicated to the iconic Lightship Basket, Whaling, and the island's Shipwreck & Lifesaving history—among others—insure that the island's rich history remains firmly ensconced for future generations.
In keeping with the island's cornucopia of artistic and cultural offerings, Nantucket boasts a vibrant performing arts community producing a variety of theatrical works throughout the year.  On-island theater groups entertain, enchant and inspire audiences, bringing both beloved classics and  avant-garde productions to life on stage.  Educational and volunteer opportunities abound as well.  Theater for the Very Young is a new initiative presenting theatrical productions performed by theater professionals specifically for student audiences of varying ages.
Whale & Seal Watching Tours
If you're in the market for off-shore adventures, eco-tour companies offer both whale and seal watching cruises—with guaranteed sightings—from mid-May through mid-October.  Fascinating and educational--and family-friendly--nautical excursions feature an on-board naturalist and ample photo opportunities to view these magnificent creatures. You'll sight humpback, finback and minke whales, and grey seals, all in their natural habitat. The seal watch cruise takes approximately 2 hours, while the offshore whale watch tour is approximately 6+ hours round-trip. An in-harbor Whaling History tour is also a great way to learn more about the island's rich maritime history.
From walking, hiking and sailing  to birding, biking and buses, an impressive range of sightseeing tours will guide you in exploring this small, yet diverse island. (There's even a clamming excursion!)  Small and mid-size vans—and a larger bus—provide 1 ½-hour tours of the entire island with historic commentary and photo ops.  Natural history tours--led by knowledgeable guides representing various on-island organizations—are informative and hands-on, allowing you to learn more about rare species, flora and fauna, as well as the island's  rich maritime history. Or, if you'd rather take a self-guided walking tour of the historic district, informative pamphlets marking the route—including details about Nantucket's diverse architectural heritage—are available at the Chamber of Commerce and Visitor Services.
Tennis is played mostly year-round on Nantucket offering a variety of private and public courts throughout the Island, many with a fantastic view. Whether you are a seasoned player or a beginner in need of some instruction you are sure to find options here on Nantucket. Many of these locations provide sales and lessons. Grab a racket, tennis shoes, and get out there in the Nantucket sunshine!