Nantucket Noel 2023: November 1 - December 31, 2023
Tree Lighting Ceremony: November 24, 2023
49th Annual Christmas Stroll: December 1 - December 3, 2023
Red Ticket Drawing: December 24, 2023
Nantucket Businesses: We invite you to participate in the 2023 Nantucket Noel Season. There are many ways to get involved and bring extra exposure to your business or organization during the holiday season. Make sure you update through your member portal with upcoming holiday openings and events.
Interested in Volunteering?  Sign-up HERE!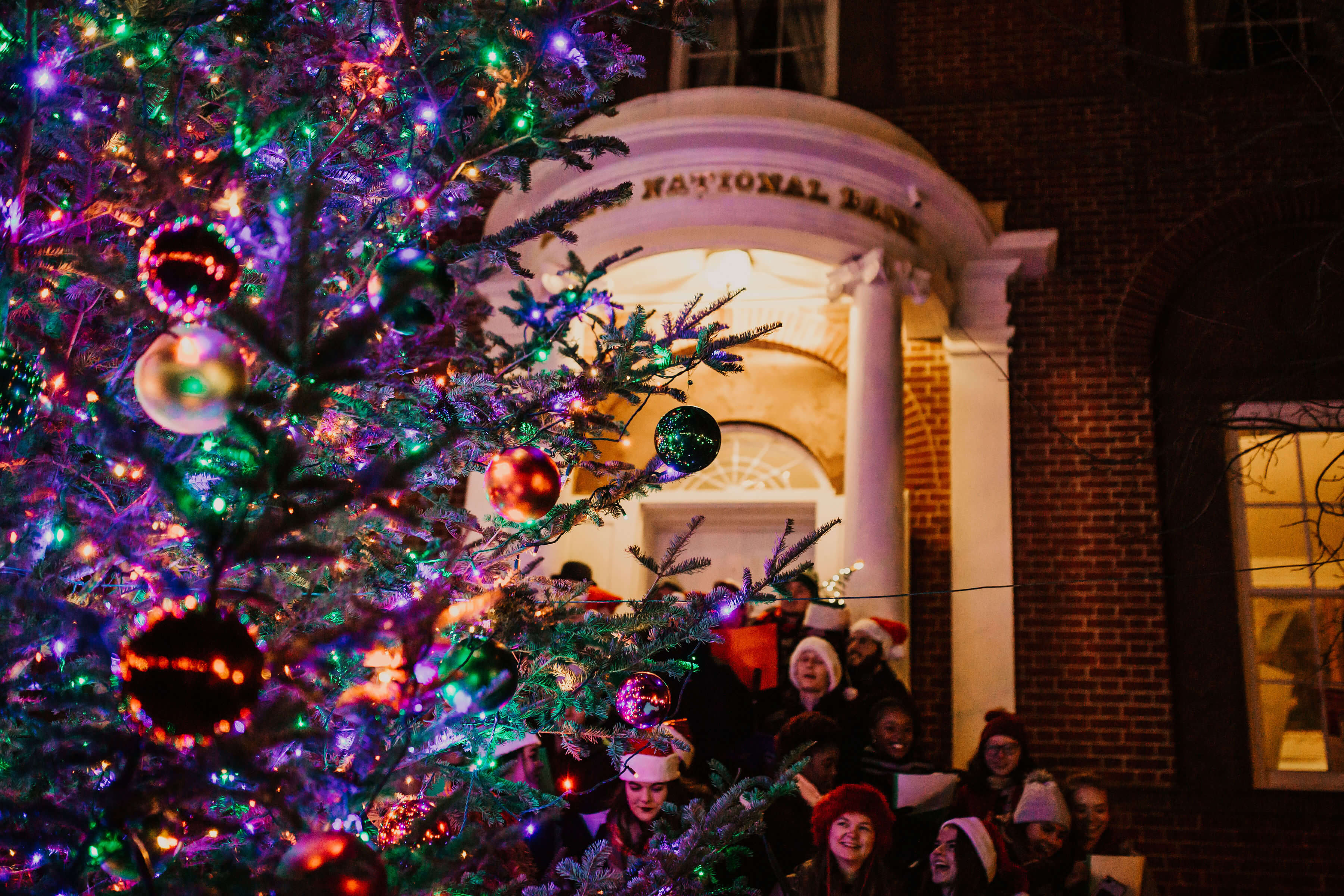 Emily Elisabeth Photograpy
Annual Christmas Tree Lighting and Community Caroling
On the day after Thanksgiving, Friday, November 24th we kick off our Annual Tree Lighting & Community Caroling Ceremony presented by Stop & Shop. Enjoy the beauty of Nantucket as we prepare for this one-of-a-kind holiday season. Over 150 trees will magically come alive in a blaze of light. The Annual Christmas Tree Lighting Ceremony & Community Caroling will be Nov. 24, 2023. Main Street will be closed from 2-6pm.
Stroll Weekend December 1 - 3
The Chamber's 49th Annual Nantucket Stroll Weekend will be December 1st - December 3rd, 2023. Santa's Arrival, Entertainment & Shop Santa's Village Nantucket details can be found HERE.
Now in its 49th year, the island's world-renowned signature event lovingly dubbed "Stroll" takes place the weekend of December 1st to December 3rd, featuring the eagerly anticipated arrival of Santa via his nautical "sleigh" at noon on Saturday. A host of holiday activities, including strolling carolers in Victorian garb, the Magical Talking Tree, craft shows, a European-style Christmas Marketplace and more guarantee fun for the entire family.
Please note that two rows in the downtown Stop & Shop parking lot will be closed from the afternoon of December 1st to the evening of December 3rd.  The Stroll Marketplace will be open Saturday, December 2nd, 10am-3pm.
2022 Christmas Stroll Program
Start collecting red tickets November 1st
The Nantucket Island Chamber of Commerce wants to encourage shopping local for the holiday season and to promote the sustainability of island commerce, so we are continuing our popular Holiday Red Ticket Program. Participating Chamber member businesses give out one red ticket for every $25 spent. At 3pm on December 24th, 6 lucky winners of $1,000, and 1 extra-lucky winner of $5,000 will be chosen at random from the multitude of tickets.
Winners drawn December 24th