Nantucket Noel 2023: November 1 - December 31, 2023
Nantucket Noel truly is the most wonderful time of the year on our island 30 miles out to sea. The joy of the holidays on Nantucket encompasses this magical time on island. From our community Tree Lighting Ceremony and Annual Christmas Stroll, to the Red Ticket Drawing and more, we do the holidays right!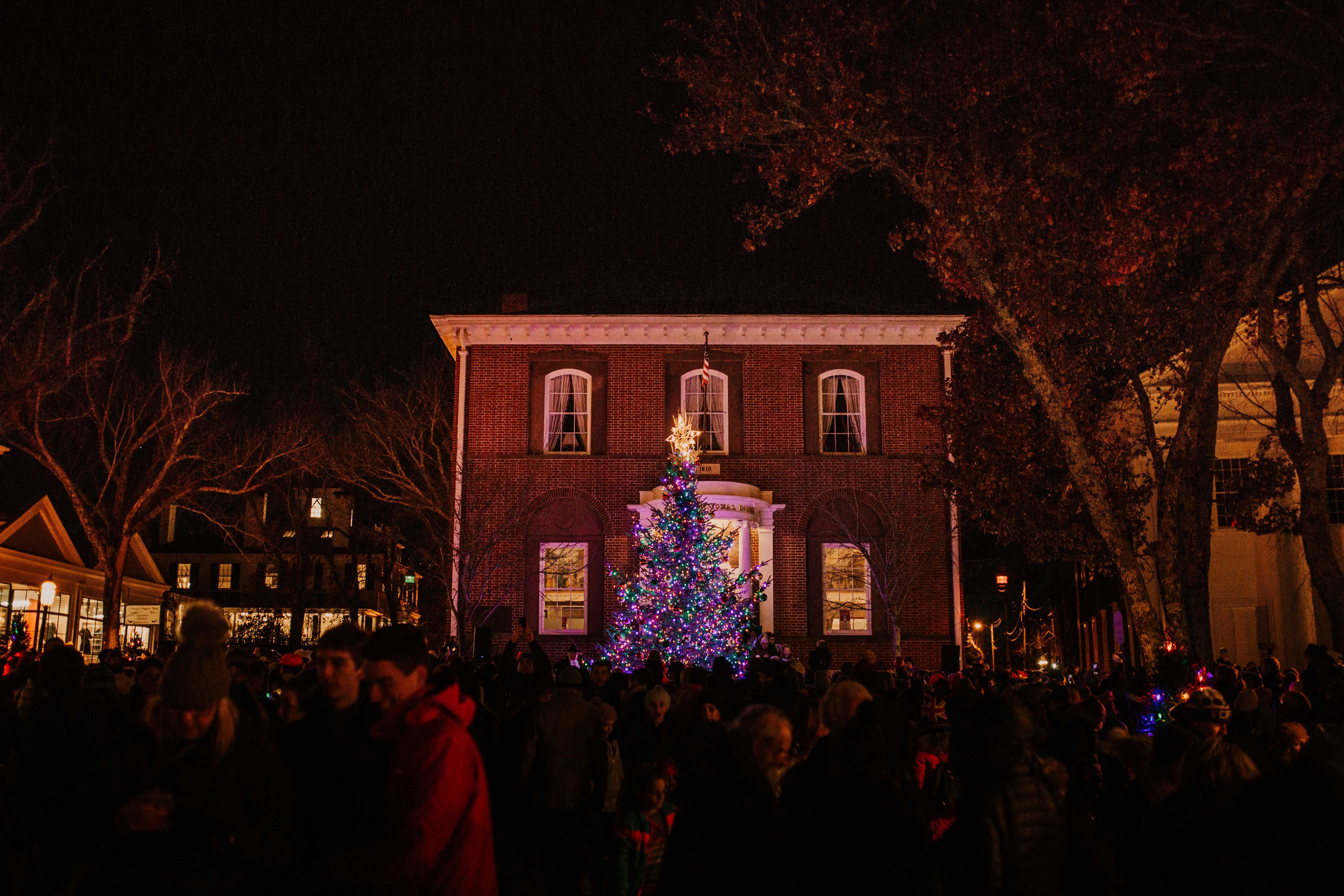 The Chamber's 49th Nantucket Stroll Weekend will be December 1st - December 3rd, 2023.
Santa's Arrival, Free Live Entertainment, and the Christmas Stroll Marketplace details can be found HERE.
Now in its 49th year, the island's world-renowned signature event lovingly dubbed "Stroll" takes place the weekend of December 1st to December 3rd, featuring the eagerly anticipated arrival of Santa via his nautical "sleigh" at noon on Saturday. A host of holiday activities, including strolling carolers in Victorian garb, the Magical Talking Tree, craft shows, a European-style Christmas Marketplace and more guarantee fun for the entire family.
Please note that two rows in the downtown Stop & Shop parking lot will be closed from the afternoon of December 1st to the evening of December 3rd.  The Stroll Marketplace will be open Saturday, December 2nd, 10am-3pm.
On the day after Thanksgiving, Friday, November 24th at 4PM we kick off our Annual Tree Lighting & Community Caroling Ceremony presented by Stop & Shop. Enjoy the beauty of Nantucket as we prepare for this one-of-a-kind holiday season. Over 150 trees will magically come alive in a blaze of light. Musical performances by The Accidentals and Naturals.
Please note that Main Street will be closed from 12-6pm.
Storefront Decorating Contest
Alice Walk, 18b Federal Street
Artists Association of Nantucket, 19 Washington Street
Blue Beetle, 12 Main Street
Cape Cod 5, 0 Main Street
Congdon & Coleman Insurance, 57 Main Street
Epernay Wine & Spirits, 1 North Beach Street
Erica Wilson, 25 Main Street
Erin Hielle LLC, 0 Main Street
Flowers on Chestnut, 1 Chestnut Street
For Now, 48 Centre Street
Hill House Home, 33 Main Street
Lemon Press, 41 Main Street
Many Moons, 18 Federal Street
Murray's Toggery Shop, 62 Main Street
Peachtree Kids, 19 Main Street
Respoke, 41 Straight Wharf
The Beet, 9 South Water Street
Toujours Midi Nantucket, 30 Main Street
Vis-A-Vis, 34 Main Street
97.7 ACKFM True Island Radio
ACKRight, LLC
Adam Dread, Esq.
Advisors Living
Annie and the Tees
Artists Association of Nantucket
B-ACK Yard BBQ
Bill Hoenk Photography
Blue Beetle
Brass Lantern Inn
Burke Property Services
CB Bookkeeping
Centre Point
Cohen & Cohen Law
Congdon & Coleman Real Estate
Craftmasters Nantucket
Epernay Wine & Spirits
Erica Wilson
Erin Hielle, LLC
Eye of the Needle
Flora and Fauna Gardens
Flowers on Chestnut
Fly Exclusive
For Now
Four Winds Gifts, Inc
Freedman's of Nantucket
Get Joy Food & Co
Glidden & Brescher, P.C.
Grace Geier
Happy Place Retail
Haul Over Nantucket
In Loving Memory of Leslie Olszak
Ivy Scricco
Lemon Press Market
Lex Rx
Lilly Pulitzer Nantucket
Maggie Stewart Events
Massachusetts Audubon Society
Monarch Face and Body
Murray's Toggery Shop
Nanducket
Nantucket Arts Council
Nantucket Crisps
Nantucket Historical Association
Nantucket LookBook
Nantucket Looms
Nantucket Preservation Trust
Nantucket Swim Boosters
Northeast Advisors
or, The Whale
Quidley & Company
Remy Creations
Roberta Hamblin
Salt Boutique
Santa PicsU
Serenella
Southern Tide
St. Mary Our Lady of the Isle Catholic Church
Summer Shades
Surfside Nantucket
The Antiques Depot
The Dance Space
The Gallery at Four India
The Green Lady Dispensary
The Look Book
The Inquirer and Mirror
The Nantucket Dreamland Foundation
The Rose & Crown
The Scout Guide Nantucket
The Westmoor Club
Toujours Midi Nantucket
Town Pool
Ventuno
vineyard vines
Wayne Alarm Systems
Your Friend With A Truck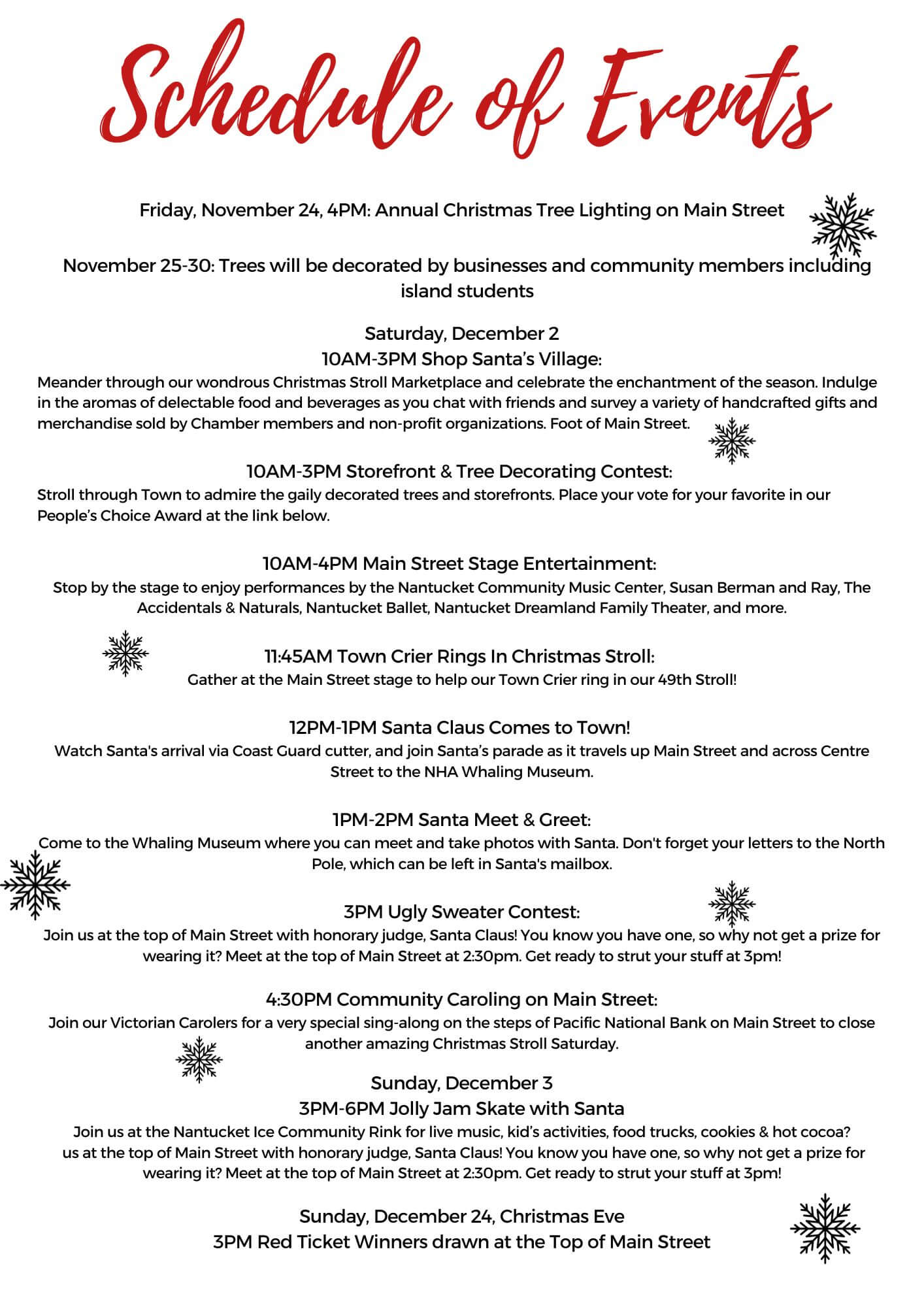 Start collecting red tickets November 1st
The Nantucket Island Chamber of Commerce wants to encourage shopping local for the holiday season and to promote the sustainability of island commerce, so we are continuing our popular Holiday Red Ticket Program. Participating Chamber member businesses give out one red ticket for every $25 spent. At 3pm on December 24th, 6 lucky winners of $1,000, and 1 extra-lucky winner of $5,000 will be chosen at random from the multitude of tickets.
Winners drawn December 24th