Nantucket boasts a plethora of family-friendly eateries and dining options. From breakfast to late-night snacks, you can grab quick takeout fare from the vendors on the lively lower Broad Street "Strip", enjoy an al fresco clambake or lobster feast, or a leisurely, laid-back dinner at one of the many Nantucket restaurants featuring diverse menus appealing to all ages—from homemade Italian to tantalizing Thai.  Dress code is casual at most venues, in keeping with the island's low-key "vibe."
Before grabbing lunch or dinner from one of Nantucket's restaurants, try one of the island's amazing bakeries and cafes. Order hot breakfast sandwiches and just-baked homemade muffins to cold and hot sandwiches and pizza, you'll find a variety of bakeries and cafes—in the heart of Town and mid-island—to satisfy your craving for quick hearty fare, or a delectable mid-afternoon dessert. Indulge in a gourmet coffee—from lattes and mochas to the newest "nitro" trend—iced coffee infused with nitrogen for the creamiest, smoothest beverage you've ever tasted. And do take a moment to relax and "watch the pass" as you sip and nosh.
Is the big game on? Looking to relax with a glass of wine after a day of work? Or are you interested in a specialty cocktail after a full day at the beach? Nantucket's bars and pubs—both in Town and out—are perfect places to do just those. With great food, in season entertainment, and lively conversation, there is something for everyone to enjoy. Menus are diverse ranging from stuffed quahogs and calamari to buffalo wings and burgers creating the perfect spot to hang out with friends.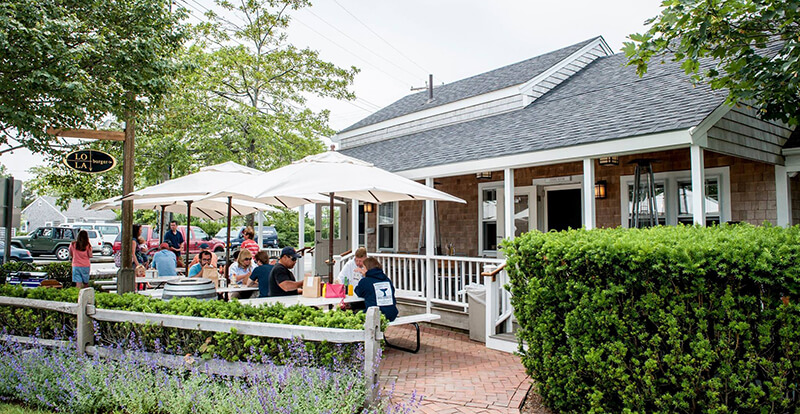 Whether you're hosting a rehearsal dinner, wedding reception, or corporate getaway, our on-island caterers and private chefs will insure that your special event is truly unforgettable. Beverage caterers will provide just the right vintage and cuvee to showcase your meal, whether it's an al fresco clambake or five-course dinner. From event planning and coordination to recommendations for music, flowers and photography, these uber-professionals will choreograph every detail of your special event with flair and panache.
What better way to end a fabulous day at the beach or touring the historic sites than a much-deserved stop at one of Nantucket's ice cream purveyors?  Tuck into a warm homemade waffle cone —filled with an exotic flavor like Chocolate Peanut Butter Cookie Dough or Grapenut, indulge in a tall, cool strawberry frappe or—for the calorie-conscious—a dish of vanilla frozen yogurt. Make sure to check out the two very well known ice cream places on Nantucket - Juice Bar and Island Kitchen. Both offering delicious and unique flavors and both homemade! There's even a one-hour Ice Cream Cruise aboard the Shearwater so you can enjoy a frosty treat while learning  about the history of this storied island and marveling at world-class yachts in the harbor.