Nantucket — dubbed "Best Island in the World" by National Geographic  — is the Faraway Land 30 miles off Cape Cod's southern coast. Visitors stepping off of the ferry are greeted by weathered wharves linked by cobblestone streets leading to an richly historic town. The entire island has recently been designated a National Historic Landmark, and its diminutive scale makes for easy exploration of its sights and rich living history.  At the heart of the island's enchantment is idyllic Main Street, named "One of America's Greatest Main Streets" by Travel & Leisure Magazine; a centuries-old aggregate of remarkably preserved 18th and 19th-century architecture coexists, along shady streets and byways, with au courant shops, galleries, hotels, bed & breakfasts, and restaurants featuring award-winning, inspired cuisine.
This page contains travel resources for Nantucket. There is no bridge to the island, and it's not necessary to bring a car as convenient public transportation services allow easy access to all parts of the island.
ON ISLAND TRANSPORTATION
Nantucket Regional Transit Authority runs "The Wave", which is a year-round shuttle bus services multiple routes all over the island. Some of these routes include transportation to Jetties and Surfside Beaches, and a Fast Ferry Connector from Faregrounds Road and the airport. The shuttles depart from downtown Nantucket and travel to mid-island and outlying areas, then loops back into town. All buses are handicap-accessible and accommodate two bikes on a first-come, first-served basis. Passes may be purchased aboard all buses or at the GreenHound Building on Washington Street.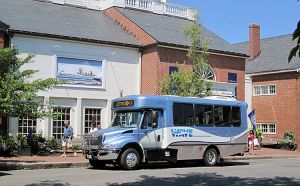 Both taxi and car rental services are available on-island year-round, with convenient locations in Town and at the Airport.  Nantucket is small and extremely walkable, so please consider leaving your car in Hyannis, where both ferry lines operate secure lots. Parking can be difficult on-island, particularly in high season, and it is rather expensive to ferry your car back and forth.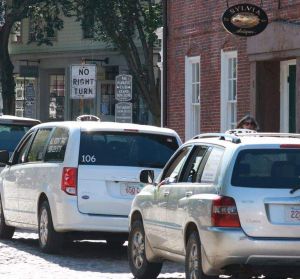 What better way to experience Nantucket than by bike?  At 14 miles long by 3 ½ miles wide—with predominantly smooth terrain and spectacular vistas, biking on the "Grey Lady" is a veritable delight. Twelve designated trails with over 32 miles of paths traverse the island, with many suitable for the novice bikers and families. Our bike shops will provide everything you need for your adventure—from a map and helmet to a suitable, properly-maintained bike built exclusively for the island landscape. Most rental shops also provide free roadside service. Sustainable transportation, coupled with a great workout. "Get on your bike and ride!"

Walking, Biking, & Driving Tours
Nantucket Island is full of must-see attractions that can be accessible both on foot, by bike, or by car. With beautiful views of beaches, cliffs, and a variety of different landscapes, all walking, biking or driving tours will give you a great feel for the island and the natural beauty that it possesses. Not only will you see charming landscapes and views but you also might learn about the history of the island and certain locations on Nantucket.
Airlines
Even though the island is 30 miles out to sea, Nantucket has the second-busiest commercial airport in Massachusetts. Our airport is easily accessible to both local and major airlines and aircraft charters. Flights are convenient and are available year-round from airports in Boston, Hyannis, Martha's Vineyard, and Westchester/White Plains. Airlines such as JetBlue, Delta, American and United Airlines operate seasonally from JFK, LaGuardia, Westchester, Newark, Washington, DC, and Charlotte-Douglas International  Airport.

Book your flight with Cape Air here
Book your flight with Tradewind here
Ferry Services
Hy-Line Cruises and Steamship Authority are the two ferry lines that provide convenient, year-round service to and from Nantucket and the main-land. Both ferry lines run a high-speed passenger catamaran with a travel time of an hour. The Steamship Authority also runs a traditional car-and-passenger ferry, with a two and a half hour travel time. Secure, on-site parking is available at both terminals for a nominal fee.
Freedom Cruise Line in Harwich Port and Seastreak in New Bedford provide seasonal high-speed ferry service to the island. A seasonal inter-island ferry operated by Hy-Line Cruises runs between Nantucket and Martha's Vineyard from late May to early October.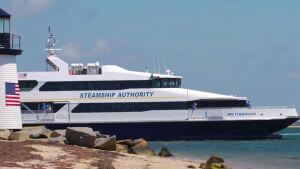 Book your journey with Hy-Line Cruises
Book your journey with Seastreak
Book your journey with Freedom Cruises
Bus & Train
Thanks to commuter bus and train services to and from the Hyannis Transportation Center, located two blocks from the harbor, getting to Nantucket from New York City and Boston is a breeze. Plymouth & Brockton Bus Line provides convenient services from Boston's South Station and Logan Airport. Peter Pan/Bonanza Bus Lines depart from New York (Port Authority), with an approximate 6 hour travel time. A seasonal train, the CapeFLYER, operated by Cape Cod Regional Transit Authority, offers convenient weekend passenger service from Boston to Hyannis.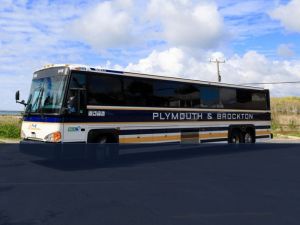 Plymouth & Brockton information