Red Tickets start November 1st
Winners will be drawn December 24th
To encourage shopping local for the holiday season and promote the sustainability of island commerce, the Chamber continues its popular Annual Red Ticket Program. With participating Chamber member businesses giving out one red ticket for every $25 purchased. In 2021 over 570,000 Red Tickets were distributed by Chamber Member merchants to their customers. With each ticket representing a value $25, that approximates to over $14 million in sales generated through the program.
Are most of your purchases under $25? Contact events@nantucketchamber.org to discuss ways to participate.
Double Red Ticket Saturdays: Double Red Tickets will be issued by participating businesses Saturdays throughout Nantucket Noel. Sign up for your own POP UP Double Red Ticket Day by emailing events@nantucketchamber.org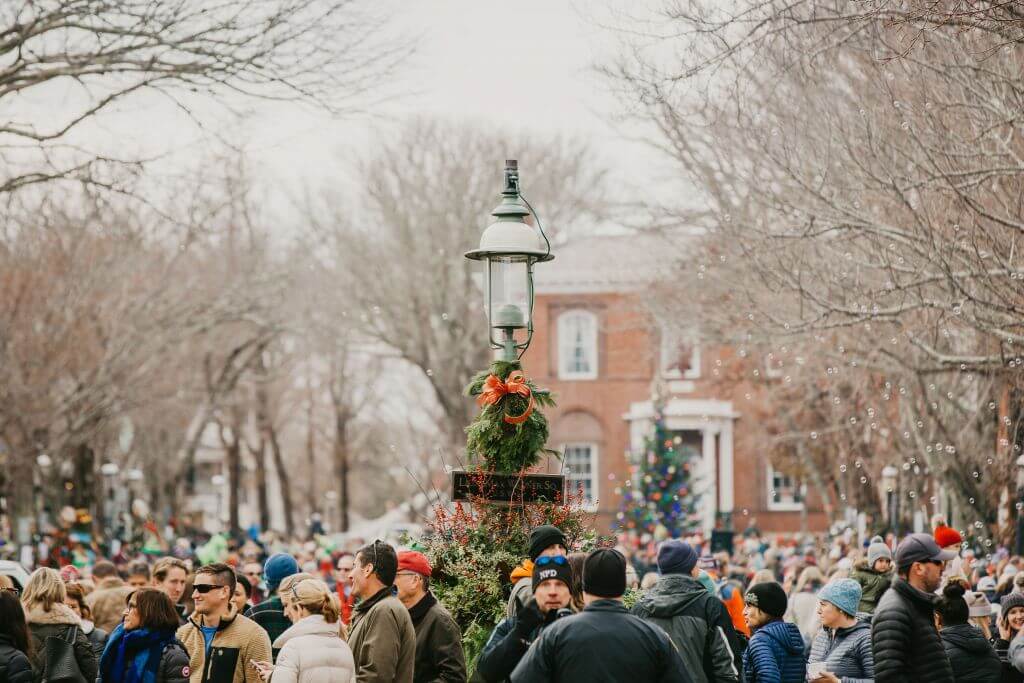 RULES OF PARTICIPATION FOR BUSINESSES:
1. You may choose one of the following three levels of participation. Please note: these funds do not benefit the Chamber of Commerce, but merely cover the cost of prizes, advertising, tickets, and production.
a. Pay $500: Receive 8,000 tickets, in rolls of 1,000 or 2,000. Businesses using more than 8,000 tickets (8 rolls) will be charged an additional fee of $50 for every additional roll of 1,000 tickets.
b. Pay $325: Receive 5,000 tickets, in rolls of 1,000 or 2,000. Businesses who would like to purchase any additional rolls will be charged an additional fee of $50 for every additional roll of 1,000 tickets.
c. Pay $100: Receive 1,000 tickets. You must agree to dispense tickets for all 8 weeks, buying more rolls as necessary. All additional rolls will be charged $100 for each roll of 1,000 tickets.
2. Customers are given one ticket for every $25 spent at the time of purchase, regardless of the type of payment (cash, check, or credit card) from Nov 1 – Dec 23 at end of the business day.
3. Please pick up your tickets on or after Oct. 28 at the Chamber. Tickets will not be issued without payment. You may distribute tickets to customers starting November 1.
4. This year, our annual Home for the Holidays featuring double red tickets falls on Saturday, November 25, Stroll Weekend which is December 1-3, and Saturday, December 16. Participating businesses must give out 2 tickets for every $25 spent. Be sure to stock up on ticket rolls prior to each weekend.
5. Tickets, unused tickets, and rolls (labeled with your business name) must be returned to the Chamber office NO LATER THAN 10 AM ON DEC 24. You may drop off tickets prior to Dec 24. To keep the event on schedule, businesses must be responsible for separating tickets.
6. If you are collecting red tickets for a non-profit organization, please inform a representative from that organization that they must pick up the donated tickets from you, participate in the drawing and have their organization's tax ID number available. You will be given a flyer to display in your window identifying you as a participant. Display ads listing participating businesses will appear in community advertisements. Only businesses that have paid for their tickets will be listed in the ads.
DETAILS ARE SUBJECT TO CHANGE.
ALL PARTICIPANTS WILL BE NOTIFIED OF ANY CHANGES.